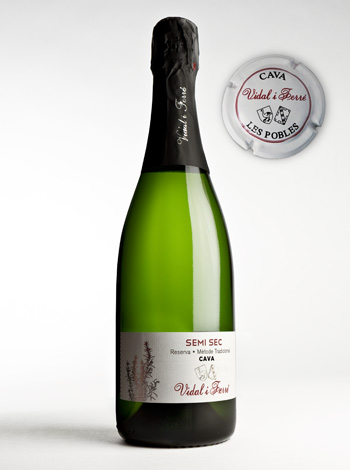 CAVA SEMISEC (MEDIUM-DRY)
The varieties of Macabeu, Parellada and Xarel.lo, proportionally, are the base of Vidal i Ferré Medium-Dry Cava. After a long rest in the silent caves, you can enjoy the taste of its quality. The balance between sensuality and tenderness gives to this fruity wine the charm of softness.
Varieties: Macabeu, Parellada and Xarel.lo
Alcohol contents: 11.5 % vol.
Elaboration and aging: second fermentation in the bottle at 16°C. Aged on the lees, for at least 15 months. Manual clarification in racks.
Taste: The color is bright straw yellow, with fine bubbles. In the nose is fresh and balanced with medium intensity and aromas of ripe fruit. Mouth taste, smooth and balanced, combined with fine bubbles.
Serve between 6-7°C.