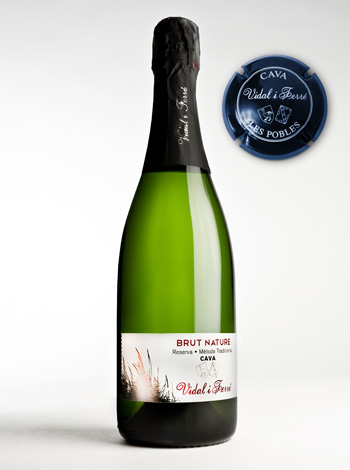 CAVA BRUT NATURE RESERVE
To reach the fullness, to awaken passion, has a long maturation time in the silence and darkness of the caves. The color slightly golden, harmonious and complex aromas of flowers and ripe fruit, taste slightly structured and retaining freshness, give the Brut Vidal Ferré extraordinary originality.
Varieties: Macabeu, Parellada and Xarel.lo
Alcohol contents: 11.5 % vol.
Elaboration and aging: second fermentation in the bottle at 16°C. Aged on the lees, for at least 15 months. Manual clarification in racks.
Taste: The color is bright straw yellow, with fine bubbles. Intense floral and fresh fruits aroma. In the mouth taste is appreciated the fruits found in the nose, fresh, complex and keeps a good acidity.
Serve between 6-7°C.